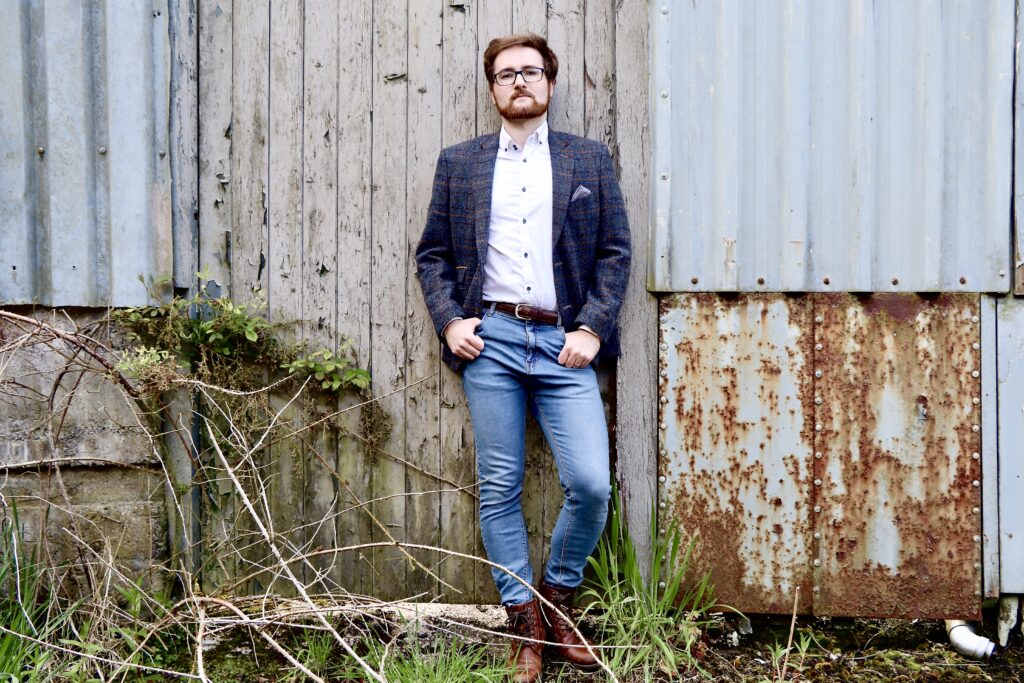 Dr. Anselm McDonnell is an Irish/Welsh composer based in Belfast who has composed over ninety pieces for orchestra, chamber groups, choirs, soloists, and electronics. His music has been performed in Estonia, Hungary, Thailand, Canada, Finland, Czech Republic, Japan, Russia, France, North America, and across the UK and Ireland. A diverse range of interests have led to the creation of work in collaboration with rap artists, lighting designers, theologians, poets, filmmakers (including 360 VR, ambisonic recording and spatialized sound), improvising musicians, fashion designers, dancers, and actors. His compositions have been described as 'abrasive and compelling' (Irish Times), 'bristling with energy' (GoldenPlec), 'bright as fluorescent light' (Journal of Music) and 'perhaps the contrasts and complexities that it contains are a musical reflection of the multi-layered nature of what it means to be a composer in a community as complex as Northern Ireland.' (Robert Hugill) He is a Jerwood+ resident composer with the LSO for 23/24 and was recently resident composer at the Centre Culturel Irlandais in Paris (Oct/Nov 23), funded by CMC Ireland. He was resident composer for the Belfast City Council during 2022. He also works as a freelance engraver and teacher: working as engraver for Musiquity Edutech Ltd in Mumbai, running professional development seminars on notation in Sibelius software, teaching GCSE and GCE Composition at the Ulster College of Music, and teaching part time on composition, performance, and classical analysis modules at Queen's University Belfast.
McDonnell's music has been played at NCH Dublin, LSO St. Luke's (4 performances), Wigmore Hall, New Music Dublin Festival (10 performances), Huddersfield Contemporary Music Festival, the Hugh Lane Gallery (4 performances) and in early 2024 in Carnegie Hall's Stern Auditorium. His music has been broadcast on Lyric FM, BBC Radio 3, BBC Radio Ulster, CKIA FM (Canada) and Klassikaraadio (Estonia) – which dedicated an hour-long programme to his music. His recent interview with the BBC Music Magazine, focusing on composers from Northern Ireland, will feature in their March 2024 issue.
McDonnell's music has been performed by the London Symphony Orchestra, BBC Concert Orchestra, Ulster Orchestra, Royal Scottish National Orchestra, BBC National Orchestra of Wales, Avanti! Chamber Orchestra, BBC Singers, Chamber Choir Ireland, St. Salvator's Chapel Choir, First Old Boys Brass Band Belfast, NI Concert Band, CRASH Ensemble, Ligeti Quartet, Hard Rain SoloistEnsemble, The Degani Piano Trio, The Assembly Project, C4 Ensemble, Ottawa Guitar Orchestra Society (Canada), Rosetta Contemporary Music Ensemble (Japan), and the Gallery of Actual Music Ensemble (Russia). He has also written for prominent soloists: clarinettists Francesco Paolo Scola and Leonie Bluett, cellists Kate Ellis and Martin Johnson, violinists Ioana Petcu-Colan and Larissa O'Grady, pianists Isabelle O'Connell, Cahal Masterson, and Adam Marks, guitarists Mitsuo Nagata and Christopher Roberts, accordionist Dermot Dunne, violists Laura Sinnerton and Adele Johnson, singers Elizabeth Hilliard, Michelle O'Rourke, Joshua Ellicott, Rebecca Murphy, Kelli-Ann Masterson, and Vojtech Šembera. Competitively, McDonnell was the winner of the Jerome Hynes Young Composers' Award 2022 and finalist in the Peter Rosser Composition Award (2015 and 2018) and in the 14th Sun River Prize in Chengdu, China. He received 1st prize in the Feis Ceoil Choral Composition Competition 2017 and the Chamber Ensemble Competition 2018. In July 2018 a collection of his choral works was awarded first prize in the 3rd International Kastalsky Choral Writing Competition in Russia. His large chamber work Engines of Babel, commissioned by the CRASH Ensemble, received honourable mention in the Thailand Arts and Music Symposium 2019, Bangkok, and his music has been featured in the festival every year since, including in June 2023 when TACETi Ensemble performed portrait concerts of his chamber music in Bangkok and Chiang Mai, including a new commission funded by the British Council.
McDonnell's music is featured on eleven CDs, including two self-released albums: Light of Shore and Kraina. He features on three releases by the Crash Ensemble and his choral work Hinneni features on a CD, Annunciations, celebrating the work of Sir James MacMillan and other contemporary choral composers.
Last updated Dec 2023. Please do not edit this bio or copy it if it is older than 3 months. Get in touch if you require an updated bio or a shorter version.
Education
2016 – 2020 Queen's University Belfast, PhD in Music Composition, supervised by Professor Piers Hellawell: Passed with no corrections, examined by Professor Paul Mealor OStJ CLJ OSS FRSA and Dr. Zeynep Bulut
2015 – 2016 Cardiff University, MA Music Composition: Distinction
2012 – 2015 Queen's University Belfast, BMus Music: First Class Honours
Professional bodies
Represented by The Contemporary Music Centre Ireland.
Member of the Association of Irish Composers
BASCA member (British Academy of Songwriters, Composer and Arrangers)
Supported Artist by Help Musicians UK