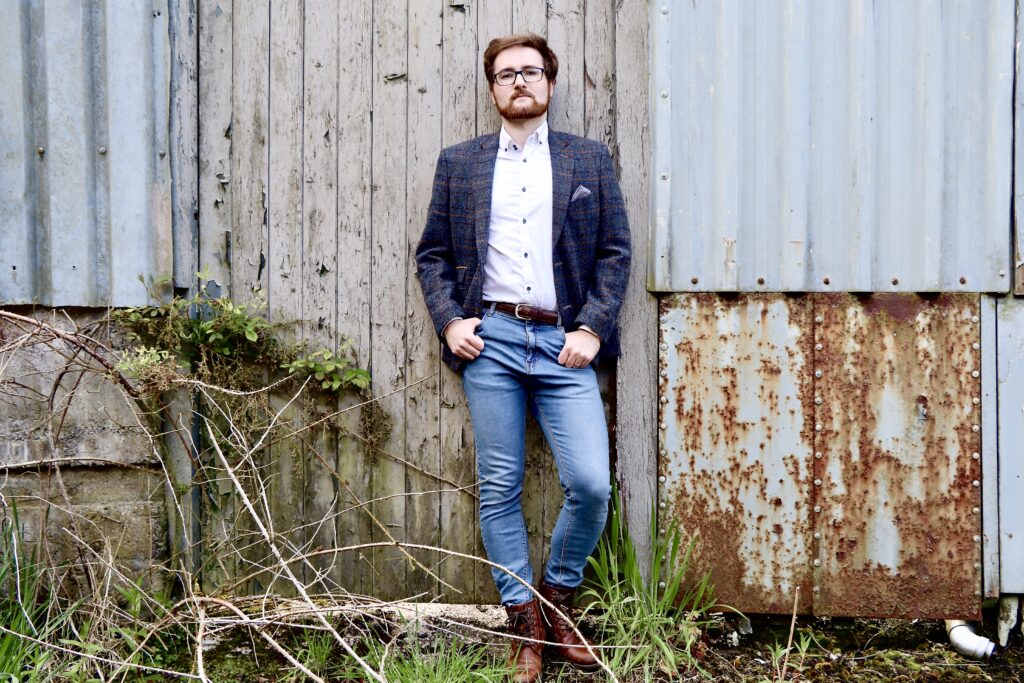 Dr. Anselm McDonnell is a composer of Irish/Welsh heritage based in Belfast, who has composed over seventy pieces for orchestra, chamber groups, choirs, soloists and electronics. His music has been performed in Thailand, Canada, Finland, Czech Republic, Japan, Russia, France, North America, and across the UK and Ireland. A diverse range of interests have led to the creation of work in collaboration with lighting designers, theologians, poets, filmmakers (including 360 VR, ambisonic recording and spatialized sound), improvising musicians, fashion designers, dancers, and actors. An award winning guitarist, he performs contemporary works on electric and classical guitars. He also works as a freelance engraver and teacher: running professional development seminars on notation in Sibelius software, teaching GCSE and GCE Composition at the Ulster College of Music, and teaching part time on composition and performance modules at Queen's University Belfast.
McDonnell has worked with ensembles such as the London Symphony Orchestra, Chamber Choir Ireland, CRASH Ensemble, BBC Singers, BBC National Orchestra of Wales, Ulster Orchestra, Avanti! Chamber Orchestra, Ligeti Quartet, St. Salvator's Chapel Choir, Hard Rain Soloist Ensemble, The Assembly Project, C4 Composers/Conductors Choir, Ottawa Guitar Orchestra Society, Rosetta Contemporary Music Ensemble, and the Gallery of Actual Music Ensemble. He has also worked collaboratively with individual performers: cellist Martin Johnson, guitarist Chris Roberts, Mitsuo Nagata, horn player Andrew Budden from Psappha, violist Laura Sinnerton from the BBC NOW, and pianists Isabelle O'Connoll and Cahal Masterson. Competitively, Anselm was a finalist in the Peter Rosser Composition Award (twice, in 2015 and 2018) and the 14th Sun River Prize in Chengdu, China. He received 1st prize in the Feis Ceoil Choral Composition Competition 2017 and the Chamber Ensemble Competition 2018. In July 2018 a collection of his choral works was awarded first prize in the 3rd International Kastalsky Choral Writing Competition. His large chamber work Engines of Babel, commissioned by the CRASH Ensemble, received honourable mention in the Thailand Arts and Music Symposium, Bangkok, Thailand. His first recorded choral piece, Hinneni, was commercially released by the St. Salvator's Chapel Choir on a CD celebrating the music of Sir James MacMillan, Annunciations, and his solo guitar work Hiraeth am nefoedd is on Chris Robert's Adra release from Tŷ Cerdd. McDonnell has also contributed a chapter in a book documenting the choral project, Annunciations: Sacred Music for the 21st Century, which includes chapters from MacMillan and Paul Mealor, published in May 2019 by Cambridge Open Book Publishers.
McDonnell is currently working on new commissions for: CRASH Ensemble, First Old Boys Brass Band, New Music Dublin Festival, BBC Radio 3, BBC Concert Orchestra, Belfast City Council, Cahal Masterson, soprano Rebecca Murphy, and dancer Suzannah McCreight. He is also involved in the Royal Scottish National Orchestra's Composer Hub 2022. His work can be heard on his portrait album Light of Shore. He is a founding member of Northern Irish new music ensemble PANIC.
Education
2016 – 2020 Queen's University Belfast, PhD in Music Composition, supervised by Professor Piers Hellawell: Passed with no corrections, examined by Professor Paul Mealor OStJ CLJ OSS FRSA and Dr. Zeynep Bulut
2015 – 2016 Cardiff University, MA Music Composition: Distinction
2012 – 2015 Queen's University Belfast, BMus Music: First Class Honours
Professional bodies
Represented by The Contemporary Music Centre Ireland.
Member of the Association of Irish Composers
BASCA member (British Academy of Songwriters, Composer and Arrangers)
Supported Artist by Help Musicians UK