Just back from the New Music Dublin Festival, the first time I've been at the National Concert Hall for 2 years! Amazing to have been there and enjoyed so many concerts of music, and had 6 of my own pieces performed or screened as part of the festival. Thank you to director John Harris and all the musicians who gave incredible performances of my music: Crash Ensemble, Sarah Watts & Alex Petcu-Colan, 1st Old Boys Brass Band Belfast, Dermot Dunne & Nicole Rourke, and Leonie Bluett & Kate Ellis. March also saw the U.S. premiere of my guitar piece Hiraeth am nefoedd, and the release of Music for Chairs, a collaboration with dancer Suzannah McCreight. Bit of a whirlwind – plenty of recordings to share!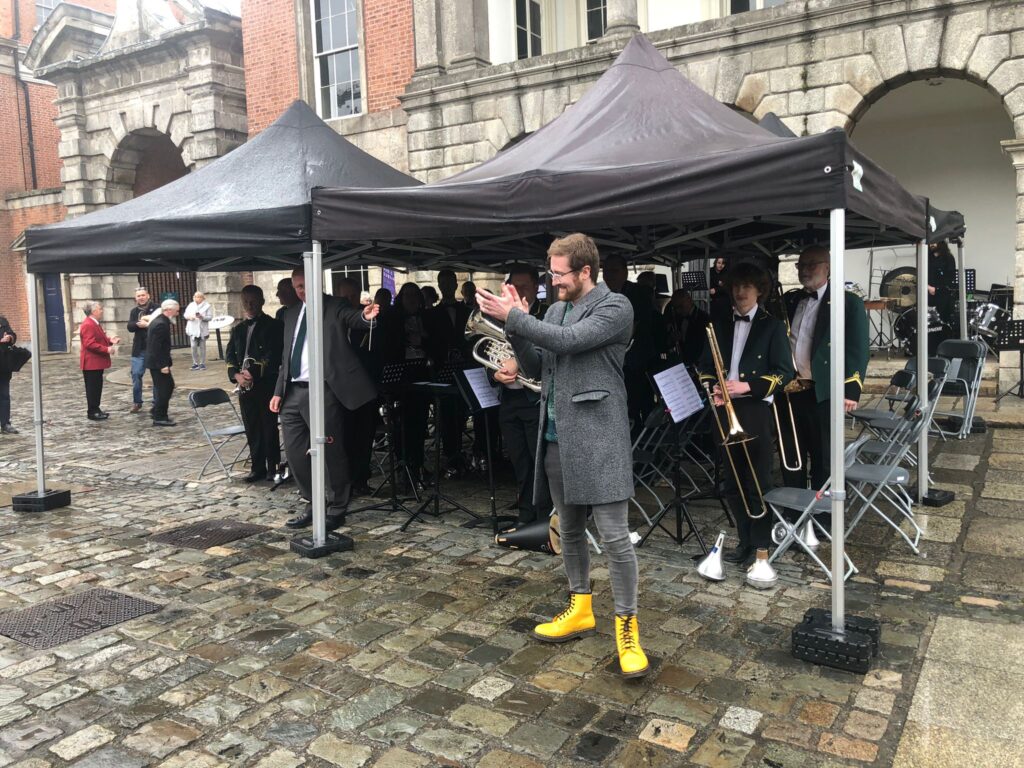 The Irish Composers' Collective launched their label at NMD with three albums, one of which featured my piece Woolgathering for percussion and contrabass clarinet, performed by Ensemble Offspring. Sarah Watts and Alex Petcu premiered it at NMD, and the track is available on bandcamp.
Crash workshopped an extract from my new piece Honnold at NMD, and also screened their recording of Cross-Purposes, written for them in 2020 and performed by Kate Ellis and Leonie Bluett, with visuals by Laura Sheeran. My piece Pollen, Blood & Seaspray, commissioned by CMC as part of their Ulysses Journey project, was also screened as part of the festival.
In March Trevor Babb took on the daunting task of learning my guitar piece Hiraeth am nefoedd, which he gave the U.S. premiere of in Indiana at the 21c Guitar Conference 2022. His performance can be watched below:
My piece for marimba and electronics, recorded by Alex Petcu, was part of a dance project by choreographer Suzannah McCreight in 2020, which worked with a group of young dancers over Zoom during lockdown. Their performance is now up on YouTube:
I finished up quite a few projects in April: a new work for Suzannah McCreight called Sitting by Water, and a 10 minute piece for the Royal Scottish National Orchestra: Coruscate.
Looking ahead to May I have several performances: 11th May If ye love me as part of the London Festival of Contemporary Church Music at St. Pancras, London. 17th May RSNO workshop my piece Coruscate for orchestra and electronics. 18th May the Degani Piano Trio and Elizabeth Hilliard premiere Common Places in the National Concert Hall, Dublin, as part of a concert I have curated for them (tickets available here). An article in the Irish Times by Michael Dervan about the concert series can be read here. RTÉ Culture File will broadcast an interview about my album and other works with Luke Clancy in early May. Back to the desk now, as I've new works to write for violin & piano, a song cycle in Polish, and a duo for cello & viola…